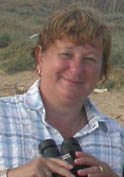 Once our holiday was booked I began to plan what we would do with the two weeks we would be in Sri Lanka. As well as some of the normal tourist trips, I decided that I would like to do a little bird watching. So I searched the internet and made contact with Amila Salgado to ask if he would take us out. I explained that we are not serious birders but just wanted to see some of the birds Sri Lanka had to offer.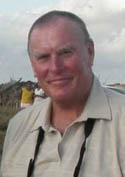 Before we left the UK Amila had suggested possible itineraries and sent us detailed information to help us to prepare for our birding trips. His communications were excellent and he answered all my questions with great patience.
I was a little apprehensive as Amila was taking out a serious 'lister' in the days before our holiday and he was clearly going to be an experienced guide so how would he cope with complete beginners like us? Amila quickly put us at our ease, he was very customer focused and genuinely cared that this should be a good experience for us. Amila always arrived promptly with a comfortable car and a great driver whose name was Sameera.
Our first outing was a one day water birds tour taking us to Chilaw sandspits, Annaiwilundawa RAMSAR Wetland, Nawadamkulama tank/wetland, Puttlam & Palavi saltpans. Amila soon deducted that I wasn't terribly excited by the LBJs although I loved the Little Grebes and various Kingfishers, the Terns, Plovers, Stints etc. left me rather cold.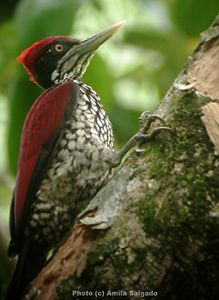 He quickly altered the focus so that we moved onto different habitats with other birds. The important thing is that Amila adapted to suit us and was even prepared to put a Spotted Dove in the scope just because we wanted to be able to appreciate the it close-up. This is probably sacrilegious to true birders but it was giving us what we wanted.
The highlight of the day for me was probably an excellent scoped view of a Pied Cuckoo, just because I saw it first, and the Crested Serpent Eagle, which conveniently sat in a nearby tree for us to offer great scope views.
After the success of this first trip we decided to take the tour to the Sinharaja World Heritage Rain Forest. This involved an overnight stop at Martin's Simple Lodge, which was about 3km by 4 wd up a rough track right to the edge of the reserve. It is the perfect location for this trip and we were made very welcome by Martin and his family.
I wanted to see some of the endemics, particularly high on my list was the Sri Lanka Blue Magpie and Amila guaranteed that we would see this bird! I was not disappointed and we also saw several other endemics namely, White-faced Starlings, Orange-billed Babblers, Sri Lanka Myna, Sri Lanka Hanging Parrot, Layard's Parakeet, Sri Lankan Crested Drongo, Sri Lanka Junglefowl, Red-faced Malkoha, Sri Lank Grey Hornbill,Legge's Flowerpecker, Ashy-headed Laughing Thrush, Sri Lankan Scimitar Babbler, Brown-capped Babbler, Spot-winged Thrush & Black-capped Bulbul. Some of the noteworthy non endemics included the Malabar Trogon, Yellow-browed and Square-tailed Black Bulbuls.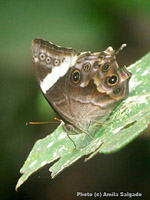 The highlight of the trip was possibly the great close-up view of a Crimson-backed Flameback and Amila finding a Sri Lanka Frogmouth by torchlight as we headed back to Martin's for the night.
Amila also seemed very knowledgeable about animals, reptiles, butterflies and plants in the forest. We saw the endemic Purple-faced Leaf Monkey and the Giant Squirrel as well as interesting Lizards, including the Kangaroo Lizard and a couple of snakes. Special highlight for Amila was getting excellent digiscope photos of the male Crimson-backed Flameback and a female of the rare endemic butterfly, Sri Lanka Forester.
There are just a couple of extra bits of information to share with you. There are leeches in the rainforest, fortunately Amila provides leech socks but I still didn't enjoy getting rid of the leeches after our walks. Secondly Amila is a Scrabble expert and loves to play with his clients. If you're going to play him make sure you learn all the strangest two letter words as he seems to know them all and he thrashed us!