Sri Lanka Revisited – December 2015

Trip report by Mike and Denise Hunter - Darlington, UK
Introduction
I visited Sri Lanka in 1995 with brilliant birder Malcolm Roxby, his partner Dawn Ross, and Chris Bell. Then there were 23 officially recognised endemics, with an additional three birds widely regarded as likely splits. Between us we saw all 26 species in just eight days; a remarkable feat back then.
What a difference 20 years makes, as there are now 33 officially recognised endemics, all but one from splits. Black-rumped Flameback is additionally expected to be split from its Southern Indian relative, which would take the total to 34.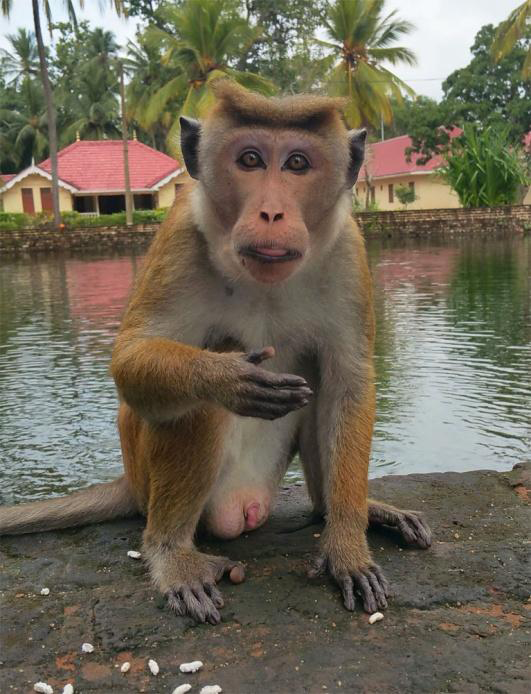 Even that is unlikely to be an end to the taxonomic revolution and, like many islands globally, you almost need to see every moderately distinctive subspecies to avoid repeat trips. Jungle Prinia, Jungle Owlet, Indian Blackbird, Black-throated Munia, Square-tailed Black Bulbul and Hill Swallow are saidto differ vocally and may be worth seeing.
My wife had long wanted to visit Sri Lanka for its cultural attractions and so began the planning for a 22 night trip, split into birding and cultural halves.
When to visit
The majority of birding sites are in the southern half of Sri Lanka when it is bestto visit between November and early-Aprilfor winter migrants such as the highly desirable Pied Thrushand Kasmir Flycatcher, with almost the entire world population wintering in the country.This period is sometimes confusingly referred to as the 'dry season' but due to overlapping monsoons this is something of a misnomer. Based on my last visit I was expecting it to be relatively dry but we experienced alot of precipitation. Amila, our guide,confirmed 2015 was a year of erratic weather,perhaps linked to the particularly strong El Ninophenomenon.
Target birds
Having birded in Sri Lanka previously, I wanted the focus of this trip to be on those 21 species I'd missed, both in Sri Lanka and elsewhere onthe Indian sub-continent:
Sri Lanka Spurfowl; Legge's Hawk-eagle; Slaty-legged Crake; Pin-tailed Snipe; Small Pratincole; Sri Lanka Green-pigeon; Sirkeer Malkoha; Blue-faced Malkoha; Banded Bay Cuckoo; Serendib Scops Owl; Sri Lanka Bay Owl; Spot-bellied Eagle-owl; Brown Fish-owl; Brown Hawk-owl; Indian Nightjar; White-naped Woodpecker; Oriental DwarfKingfisher; Sri Lanka Woodshrike; Marshall's Iora; Sri Lanka Thrush; and Baya Weaver.
Sri Lanka Bay Owl was the only 'target' bird we missed but we hada less than 1% chance anyway. This species is genuinely rare and is one of the hardest birds to see in the world. Our guide had only seen this bird three times ever, and one of those when a breeding pair was found at Sinharaja in 2007 and was twitched by most of the Sri Lankan birders and guides. Ceylon Bird Club refers to a total of about 20 sightings ever though I suspect this might now be an under-estimate.
Guides
The last time we used a local guide was something of a disaster. So it was with some trepidation we sought the advice of birders for this trip. Recommended by a trusted birding friend, we opted for Amila Salgado , owner of Birdwing Nature Holidays.Amila proved the perfect choice, very responsive to emails, excellent English, great choice of hotels,and crucially, a fantastic birding brain with incredible eyes anda number of good local contacts and back-up sites.
I've written a number of reports following trips in the past, but never have I said that a particular guide should be birders' guide of choice –but I have no hesitationin recommending himon this basis. Not only that, but Amila focussed on my 21 targets, never once favouring endemics for self-promotion. Yet, he was that good hesucceeded in us seeing all 33 (or soon to be 34?) endemics, plus all but the mythical one from my target list.
He carries a telescope (Swarovski ATM-80HD) withhim everywhere and his enthusiasm to get us the best views of birds he possibly could never waned. We bumped into two other Sri Lankan bird guides during the trip and neither of them used telescopes for their respective groups. Amila's contact details are:
Website: http://www.birdwingnature.com
Emails: amila@birdwingnature.com or Gallicissa@gmail.com or balanophis@yahoo.com
Tel: 00 94 777 591155
Amila has a good network of local contacts through which he organised searches for White-naped Woodpecker, Sri Lanka Bay Owl and Spot-bellied eagle-owlusing his mobile; we were ultimately rewarded with great views of two of these three.
Books and literature
Having visited before we only took Rasmussen and Anderton's Volume 1: Birds of South Asia, The Ripley Guide with us which was adequate.
Outline itineraryand brief daily log
Day 1 - Arrive Colombo International Airport following our Emirates Airline flight from Newcastle Airport. Picked up efficiently by Amila, and drive to Kitulgala, but not before we have soaked up great views of four day-roosting Brown Hawk-Owlsin Amila's garden where this scarce-in-Sri Lanka bird breeds. Forest edge birding late afternoon, with an unproductive night-bird session to see out a long day.
Day 2 - Excellent birding in Kitulgala, starting off with great views of hunting Chestnut-backed Owlets, a species we struggled to see on my 1995 trip. Sri Lanka Green-pigeon and my bogey bird of Banded Bay Cuckoosoon followed. Whilst Amila looks unsuccessfully for roosting Serendib Scops Owls, I check the sky and am rewarded with decent views of Legge's Hawk-eagle. Stellar views of Slaty-legged Crakeis the afternoon's pick of birds which Amila informs us is also a breeding resident based on a single breeding record at Sinharaja.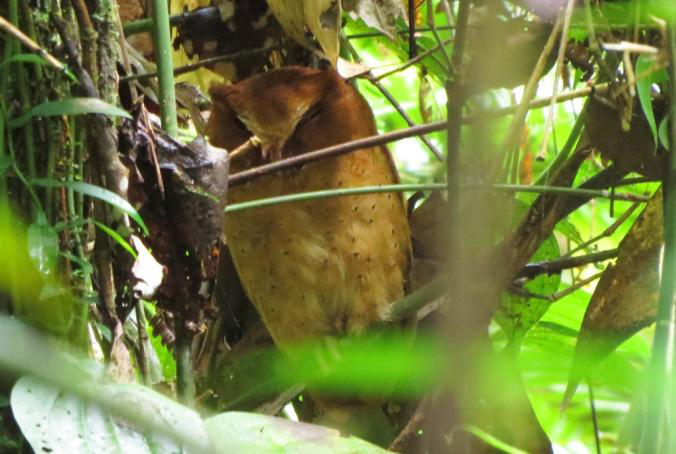 Day 3 – Our final morning at Kitulgala and this time Amila strikes gold locating a roosting Serendib Scops Owl, a species only first seen as recently as 2001 and described to science three years' later. Outrageous views of a male Sri Lanka Spurfowlon the walk backto complete a memorable morning. Drive to Sinharaja for another unproductive night bird session, somewhat ominously with little vocalising.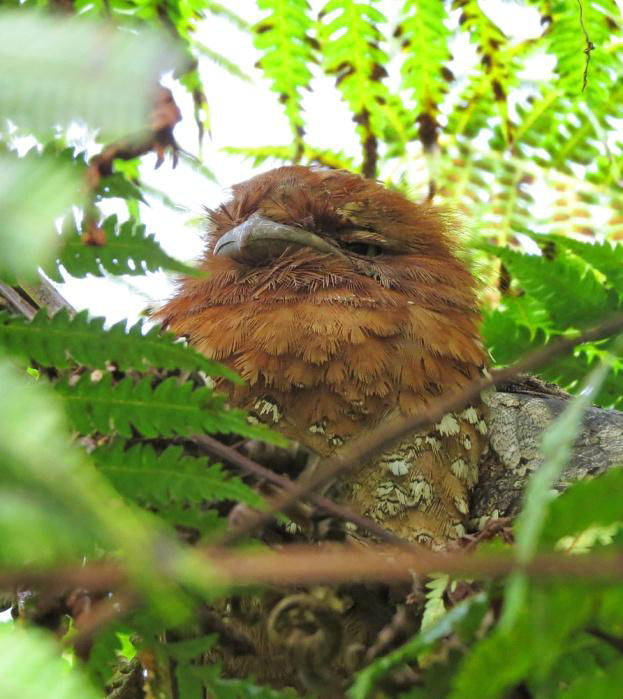 Day 4 – Pre-dawn owling finally delivers a nightbird the hard way, a Brown Fish-owlenroute to Sinharaja. All day birding on the forest trails above the famous Martin's Lodge, and after much effort, great views of Sri Lanka Thrush. Despite wrong information from the forest tracker twice, and congested trails from two other birding groups threatening to derail our efforts, Amila goes back to his favoured area. With just the two of us he sets up a pincer movement on what appears to bean ordinary patch of tangled bushes. But up pops a Sri Lankan Thrush where I'm able to absorb every detail for over a minute. Having worked so hard to see this bird Amila then pronounces he wasn't that worried as he has a stakeout back-up site in the mountains! Slower birding in the afternoon but a flock heralds the arrival of amazing Red-faced Malkohas. Stunning views of Malabar Trogon, Sri Lanka Frogmouthand Green-billed Coucal end a fabulous day.
Day 5 - Morning forest edge birding at Sinharaja with incredible views of Green-billed Coucalfeeding out in the open in someone's garden, and Sri Lanka Blue Magpie eating a large insect just metres away. Uneventful drive to Udawalawe with excellent mid to late afternoon birding in thorn scrub adjacent to the national park. A number of my dry zone targets quickly fall including Marshall's Iora, Sri Lanka Woodshrike, Baya Weaverand Indian Nightjar, amongst a total of 106 species of birds seen today.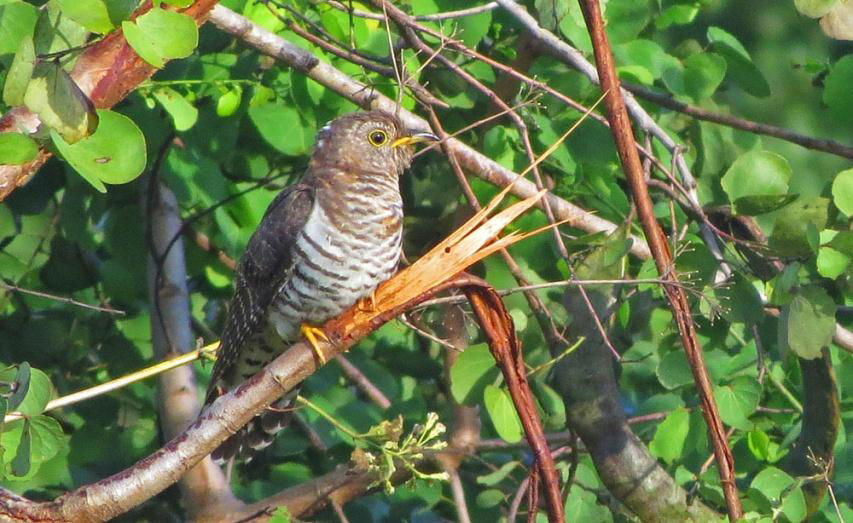 Day 6 - Excellent morning safari at Udawalawe National Park seeing both Sirkeerand Blue-faced Malkohas, the latter the one realistic bird of my target list that can be missed as it as it is skulking and does not vocalise much and so was a slight concern for Amila. In the event we need not have worried seeing three well. Other 'Cuckoos' were also well represented with Lesser, Grey-belliedand Jacobin. Drive to Tissaramahama via a patch of woodland, searching unsuccessfully for Oriental Dwarf Kingfisher. Birding around the Tissa wet lands in the afternoon enjoying what is now a rare natural history spectacle anywhere in Asia with thousands of wader birds and trees surrounding the lake dripping with Indian Flying Foxes. Five Water cock represented only my second sighting anywhere, but even better was a pairof displaying Greater Painted-snipe, the female bobbing and wing flapping in front of the male. A chance encounter with a Jungle Cat completed a fantastic day, just a whisker short of 100 species of birds.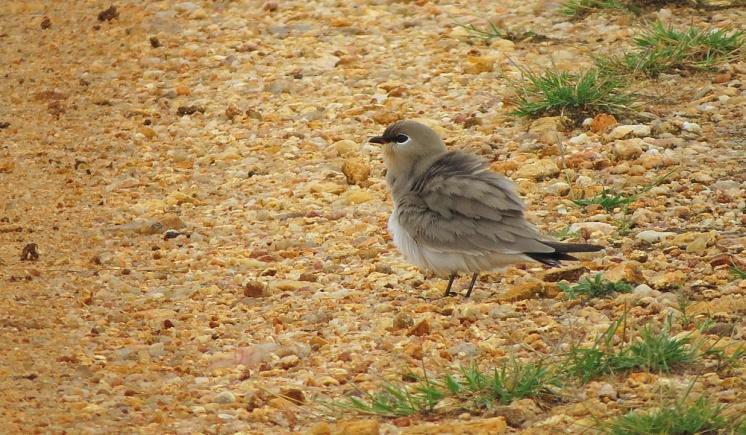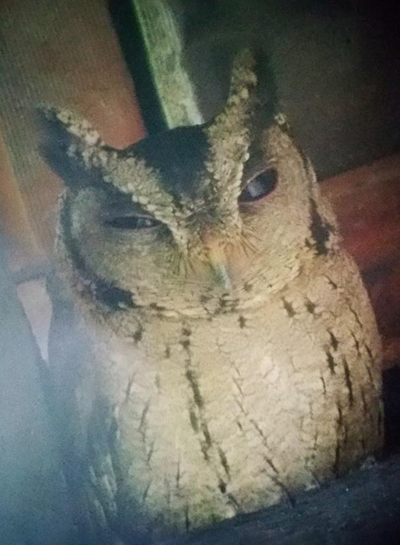 Day 7 - Excellent morning safari at Bundala National Park finally seeing Small Pratincole and Pin-tailed Snipe, two of my Asian bogey birds. Plenty of other birds excite and we spend time grilling Paddy field and Blyth's Pipits, and I store up the features of Oriental Skylarkfor hopeful future deployment in the UK! The saltpans provided an enjoyable hour looking unsuccessfully for something rare amongst the many waders and tern flocks. Exploiting his local contacts over lunch for recent White-naped Woodpecker sightings, it's not long before we are soaking up fabulous views of this impressive bird feeding on a dead tree in the middle of a palm plantation. Indian Scops Owlat a well-known day roost closes another bird-filled enjoyable day.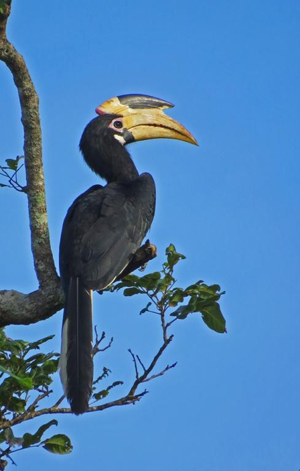 Day 8 - A forgettable morning safari at Yala National Park where we miss both Leopard and Sloth Bear. Pick of the birding: Brahminy Starling, Blue-faced Malkoha, Malabar Pied Hornbills and our only Chestnut-headed Bee-eaters of the trip amongst a trio of bee-eater species seen. In the afternoon one of Amila's contacts delivers news of roosting Spot-bellied Eagle-owls, and we race to the location where we are taken through gardens adjoining riverine forest before looking up at this monster bird in Amila's scope. I'm always on the lookout for educational birds when abroad but our efforts to find Hume's Whitethroat in the last couple of hours of daylight near Bundala fail - much to Amila's surprise, who says they are usually easy in the area. We do however see a number of scarce-in-Sri Lanka Sand Martinswhich gets Amila momentarily excited!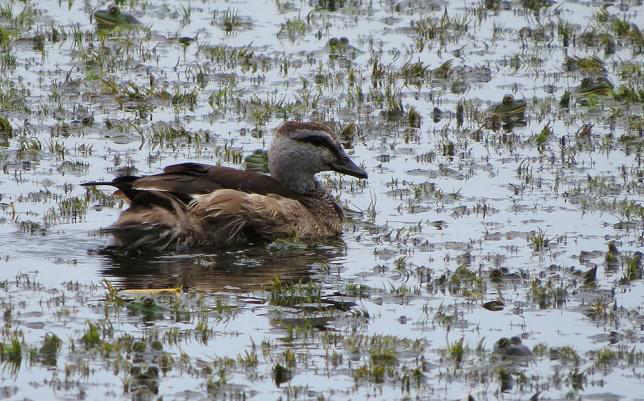 Day 9 - A near all-day drive to Nuwara Eliya punctuated by birding stops, successfully for Cotton Pygmy Gooseat Pannegamuwa Lake, the exquisite Oriental Dwarf King fisher at Kaduwela, Streak-throated Woodpecker at Ella and Hill Swallowat a tea factory not far from Kandy. A late afternoon stop at Surrey Estate, an island of forest in tea plantations preserved by a forward thinking naturalist, delivers brilliant views of a roosting Brown Wood Owl, though a flyover Sri Lanka Woodpigeon ismuch less cooperative. Dull-blue Flycatcher and Indian Blue Robinare both scrutinised at very close range in the bird bath!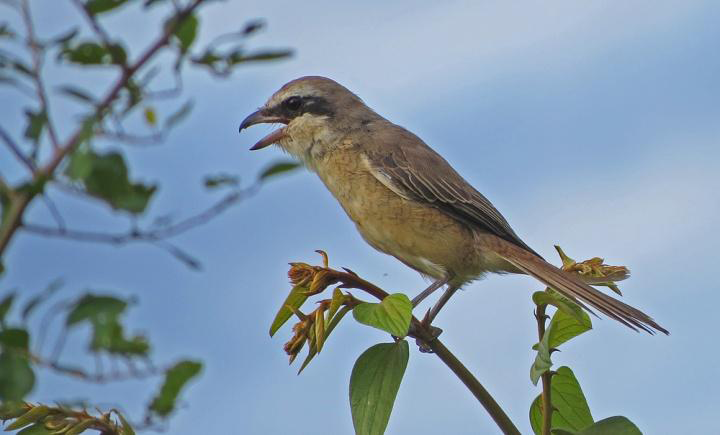 Day 10 - NuwaraEliya's Victoria Park delivers stellar views of Pied Thrushand Indian Pitta, but no Kashmir Flycatcher. A Syke's Warbler's habit of twitching its tail upwards – very like the Shetland bird I twitched in 1993 – is etched into the memory hopefully for future reference! Stake out Amila's best site for Sri Lanka Whistling-thrushby sitting in bushes for an hour before conceding defeat. Excellent forest birding above Nuwara Eliya as we soak up a trio of Sri Lankan endemics – Thrush, Bush-warbler and Woodpigeon – before returning to the whistling-thrush site this time with spectacular results. We draw another Kashmir Flycatcher blank at Victoria Park to end the day.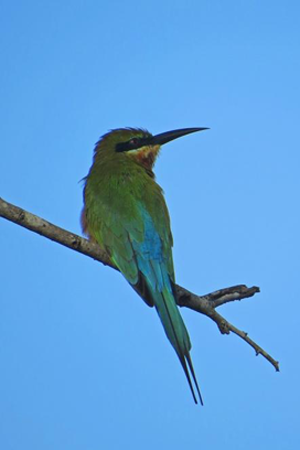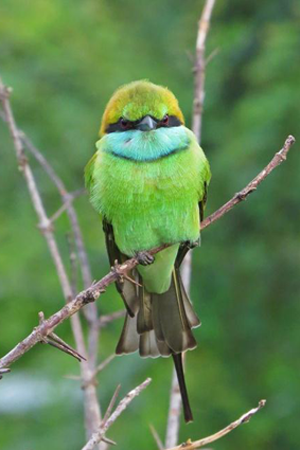 Day 11 - Birding around Nuwara Eliya in the morning with good views of a female Kashmir Flycatcheranda pair of Indian Blackbird. Our third visit to Victoria Park produces yet another Kashmir Flycatcher fail, though we do connect with Eye-browed Thrush, only Amila's second sighting in Sri Lanka. Without really trying over the past ten days we find we have just one endemic left to see – so we search long and hard for Crimson-backed Flameback stopping at every dead tree before admitting defeat. This is Amila's sixth tour that this tricky endemic has been the last to fall. But fall it does at one of Amila's best sites at Kandy later in the afternoon.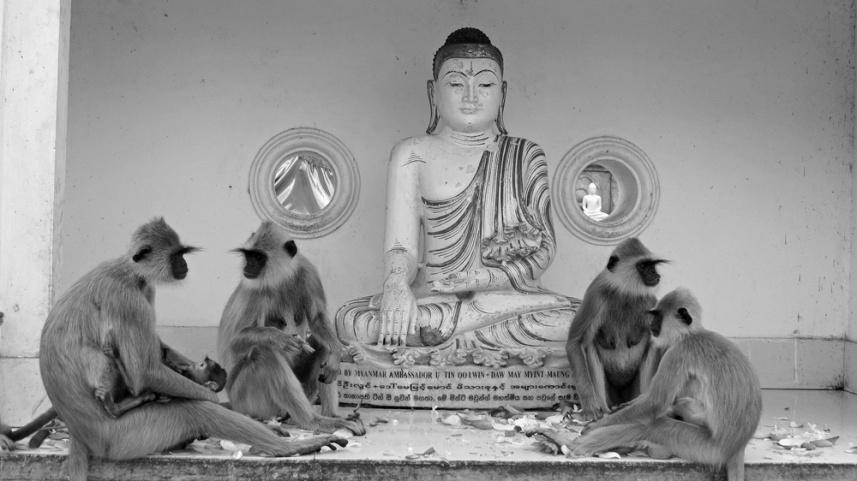 On the cultural leg we visited Anuradhapura, Polonnaruwa, Sigiriya, Galle and Mirissa (whale cruise) using public transport. Some good jungle at Sigiriya where we finally see Purple-faced Leaf-monkey, and new birds included Fork-tailed Drongo-cuckoo and we heard Indian Cuckoo. Best of all was a Blue-eared Kingfisher along a forest stream which is something of a rarity in Sri Lanka (though it has been seen before at Sigiriya). We also searched unsuccessfully for Jerdon's Nightjar, Jungle Owlet and Orange-headed Thrush. We have added in the sightings from our cultural leg below. We would recommend Sigiriya as both a birding and cultural location.
Feel free to contact us if you have any questions about a future birding trip to Sri Lanka.
Mike and Denise Hunter
Darlington, UK
mikee_deedee@yahoo.co.uk
List of 248 birds seen (includes two birds heard only)
KEY

KAD = Kaduwela

K = Kitulgala

S = Sinharaja

U = Udawalawe

L = Lunugamvehera

T = Tissamaharama

W = Wirawila Reservoir

PAN = Pannegamuwa Lake

E = Ella

SE = Surrey Estate

NE = Nuwara Eliya

KY = Kandy

A = Anuradhapura

G = Galle

P = Polonnaruwa

SIG = Sigiriya

COL = Colombo

M = Mirissa

B = Bundala

Y = Yala

[ ] = heard only at location

- = seen between the two locations
| | | |
| --- | --- | --- |
| Black-crowned Night Heron | Nycticorax nycticorax | TBPSIG |
| Striated Heron | Butorides striata | M |
| Indian Pond Heron | Ardeola grayii | Common |
| Eastern Cattle Egret | Bubulcus coromandus | Common |
| Grey Heron | Ardea cinerea | U B W |
| Purple Heron | Ardea purpurea | T B |
| Great Egret | Ardea alba | UTBY |
| Intermediate Egret | Egretta intermedia | U Y B |
| Little Egret | Egretta garzetta | UTBM |
| Spot-billed Pelican | Pelecanus philippensis | UTY-TWP |
| Little Cormorant | Microcarbo niger | KY P SIG |
| Indian Cormorant | Phalacrocorax fuscicollis | KUTB |
| Great Cormorant | Phalacrocorax carbo | T U |
| Oriental Darter | Anhinga melanogaster | T B Y |
| Black-winged Kite | Elanus caeruleus | U |
| Crested Honey Buzzard | Pernis ptilorhynchus | KSUB |
| Crested Serpent Eagle | Spilornis cheela | KSUTENEKYPSIG |
| Changeable Hawk-Eagle | Nisaetus cirrhatus | KSUBY |
| Legge's Hawk-Eagle | Nisaetus kelaarti | K |
| Rufous-bellied Hawk-Eagle | Lophotriorchis kienerii | S |
| Black Eagle | Ictinaetus malaiensis | K S |
| Booted Eagle | Hieraaetus pennatus | U |
| Crested Goshawk | Accipiter trivirgatus | K |
| Shikra | Accipiter badius | B T A |
| Besra | Accipiter virgatus | K |
| Peregrine (Shaheen) Falcon | Falco peregrinus peregrinator | KTSIG |
| Brahminy Kite | Haliastur indus | KUBTYKYPSIG |
| White-bellied Sea Eagle | Haliaeetus leucogaster | UBPM |
| Grey-headed Fish Eagle | Haliaeetus ichthyaetus | U |
| Slaty-legged Crake | Rallina eurizonoides | K |
| White-breasted Waterhen | Amaurornis phoenicurus | KTBWPAN |
| Watercock | Gallicrex cinerea | T B |
| Grey-headed Swamphen | Porphyrio poliocephalus | TBSIG |
| Common Moorhen | Gallinula chloropus | B |
| Barred Buttonquail | Turnix suscitator | U |
| Indian Stone-curlew | Burhinus indicus | U B |
| Great Stone-curlew | Esacus recurvirostris | B Y |
| Black-winged Stilt | Himantopus himantopus | U T B |
| Yellow-wattled Lapwing | Vanellus malabaricus | U B |
| Red-wattled Lapwing | Vanellus indicus | UTBYAPG |
| Pacific Golden Plover | Pluvialis fulva | B |
| Grey Plover | Pluvialis squatarola | B |
| Common Ringed Plover | Charadrius hiaticula | B |
| Little Ringed Plover | Charadrius dubius | U B |
| Kentish Plover | Charadrius alexandrines | B |
| Lesser Sand Plover | Charadrius mongolus | B Y |
| Greater Sand Plover | Charadrius leschenaultia | B |
| | | |
| | | |
| | | |
| Greater Painted-snipe | Rostratula benghalensis | T |
| Pheasant-tailed Jacana | Hydrophasianus chirurgus | TBYPANPSIG |
| Pin-tailed Snipe | Gallinago stenura | B T Y |
| Common Redshank | Tringa tetanus | T |
| Marsh Sandpiper | Tringa stagnatilis | U T B |
| Common Greenshank | Tringa nebularia | B |
| Wood Sandpiper | Tringa glareola | U Y |
| Common Sandpiper | Actitis hypoleucos | UBYNE |
| Ruddy Turnstone | Arenaria interpres | B |
| Little Stint | Calidris minuta | B |
| Curlew Sandpiper | Calidris ferruginea | B |
| Small Pratincole | Glareola lacteal | B |
| Brown-headed Gull | Chroicocephalus brunnicephalus | B |
| Gull-billed Tern | Gelochelidon nilotica | B G |
| Caspian Tern | Hydroprogne caspia | B |
| Greater Crested Tern | Thalasseus bergii | B M |
| Lesser Crested Tern | Thalasseus bengalensis | B M |
| Saunders's Tern | Sternula saundersi | B Y |
| Common Tern | Sterna hirundo | M |
| Whiskered Tern | Chlidonias hybrid | UTBYPGW |
| White-winged Tern | Chlidonias leucopterus | T G |
| Rock Dove | Columba livia | Fairly common |
| Sri Lanka Wood Pigeon | Columba torringtoniae | SE NE |
| Eurasian Collared Dove | Streptopelia decaocto | B |
| Spotted Dove | Spilopelia chinensis | Common |
| Common Emerald Dove | Chalcophaps indica | K |
| Orange-breasted Green Pigeon | Treron bicinctus | U B Y |
| Sri Lanka Green Pigeon | Treron pompadora | KSTSIG |
| Green Imperial Pigeon | Ducula aenea | Fairly common |
| Green-billed Coucal | Centropus chlororhynchos | [K] S |
| Greater Coucal | Centropus sinensis | [K] [T] Y B NE P SIG |
| Sirkeer Malkoha | Taccocua leschenaultia | U |
| Red-faced Malkoha | Phaenicophaeus pyrrhocephalus | S |
| Blue-faced Malkoha | Phaenicophaeus viridirostris | U Y |
| Jacobin Cuckoo | Clamator jacobinus | U Y |
| Asian Koel | Eudynamys scolopaceus | Fairly common |
| Banded Bay Cuckoo | Cacomantis sonneratii | K |
| Grey-bellied Cuckoo | Cacomantis passerines | U |
| Fork-tailed Drongo-Cuckoo | Surniculus dicruroides | SIG |
| Common Hawk-Cuckoo | Hierococcyx varius | [S] [KY] |
| Lesser (small) Cuckoo | Cuculus poliocephalus | U |
| Indian Cuckoo | Cuculus micropterus | [A] [P] [SIG] |
| Serendib Scops Owl | Otus thilohoffmanni | K |
| Indian Scops Owl | Otus bakkamoena | T |
| Spot-bellied Eagle-Owl | Bubo nipalensis | T |
| Brown Fish Owl | Ketupa zeylonensis | S |
| Brown Wood Owl | Strix leptogrammica | SE |
| | | |
| | | |
| | | |
| Chestnut-backed Owlet | Glaucidium castanotum | K |
| Brown Hawk-Owl | Ninox scutulata | KAD |
| Sri Lanka Frogmouth | Batrachostomus moniliger | K S |
| Indian Nightjar | Caprimulgus asiaticus | U |
| Crested Treeswift | Hemiprocne coronate | SUTY |
| Indian Swiftlet | Aerodramus unicolor | Fairly common |
| Brown-backed Needletail | Hirundapus giganteus | S |
| Asian Palm Swift | Cypsiurus balasiensis | KKYASIG |
| Alpine Swift | Tachymarptis melba | U |
| Little Swift | Apus affinis | TYSIG |
| Malabar Trogon | Harpactes fasciatus | K S |
| Indian Roller | Coracias benghalensis | U P |
| Stork-billed Kingfisher | Pelargopsis capensis | T |
| White-throated Kingfisher | Halcyon smyrnensis | Common |
| Blue-eared Kingfisher | Alcedo meninting | SIG |
| Common Kingfisher | Alcedo atthis | KYSIG |
| Oriental Dwarf Kingfisher | Ceyx erithaca | L |
| Pied Kingfisher | Ceryle rudis | T B Y |
| Green Bee-eater | Merops orientalis | KUTBYSIG |
| Blue-tailed Bee-eater | Merops philippinus | KSUTBYEAWPSIGGM |
| Chestnut-headed Bee-eater | Merops leschenaultia | Y |
| Eurasian Hoopoe | Upupa epops | Y |
| Malabar Pied Hornbill | Anthracoceros coronatus | UYL-E |
| Sri Lanka Grey Hornbill | Ocyceros gingalensis | KSLKY |
| Brown-headed Barbet | Psilopogon zeylanicus | KADKULT[KY]SIGG |
| Yellow-fronted Barbet | Psilopogon flavifrons | S KY |
| Crimson-fronted Barbet | Psilopogon rubricapillus | KY SIG |
| Coppersmith Barbet | Psilopogon haemacephalus | UTSIG |
| Yellow-crowned Woodpecker | Dendrocopos mahrattensis | B |
| Lesser Yellownape | Picus chlorolophus | K S |
| Streak-throated Woodpecker | Picus xanthopygaeus | E |
| Black-rumped Flameback | Dinopium benghalense | KUTKYSIG |
| Crimson-backed Flameback | Chrysocolaptes stricklandi | [S] KY |
| White-naped Woodpecker | Chrysocolaptes festivus | T |
| Plum-headed Parakeet | Psittacula cyanocephala | S |
| Layard's Parakeet | Psittacula calthrapae | K S |
| Alexandrine Parakeet | Psittacula eupatria | K U |
| Rose-ringed Parakeet | Psittacula krameri | Common |
| Sri Lanka Hanging Parrot | Loriculus beryllinus | KSKY |
| Indian Pitta | Pitta brachyuran | K [S] U [B] [T] [Y] NE [SIG] |
| Bar-winged Flycatcher-shrike | Hemipus picatus | K L |
| Sri Lanka Woodshrike | Tephrodornis affinis | ULSIG |
| Black-headed Cuckooshrike | Coracina melanoptera | SUSIG |
| Small Minivet | Pericrocotus cinnamomeus | UTKYA |
| Orange Minivet | Pericrocotus flammeus | KSLKY |
| Brown Shrike | Lanius cristatus cristatus | KSUBKYNE |
| | L c lucionensis | U Y |
| | | |
| | | |
| Black-hooded Oriole | Oriolus xanthornus | K S |
| Ashy Drongo | Dicrurus leucophaeus | Y |
| White-bellied Drongo | Dicrurus caerulescens | Common |
| Sri Lanka Drongo | Dicrurus lophorinus | K S |
| White-browed Fantail | Rhipidura aureola | UBLSIG |
| Black-naped Monarch | Hypothymis azurea | KSSIG |
| Indian Paradise Flycatcher | Terpsiphone paradise | KSULTSIG |
| Sri Lanka Blue Magpie | Urocissa ornate | K NE |
| House Crow | Corvus splendens | Common |
| Indian Jungle Crow | Corvus culminates | Fairly common |
| Grey-headed Flycatcher | Culicicapa ceylonensis | NE |
| Cinereous Tit | Parus cinereus | L |
| Jerdon's Bush Lark | Mirafra affinis | U B |
| Oriental Skylark | Alauda gulgula | B |
| Black-capped Bulbul | Pycnonotus melanicterus | K S |
| Red-vented Bulbul | Pycnonotus cafer | Common |
| Yellow-eared Bulbul | Pycnonotus penicillatus | NE |
| White-browed Bulbul | Pycnonotus luteolus | SULSIG |
| Yellow-browed Bulbul | Acritillas indica | K S U |
| Square-tailed Black Bulbul | Hypsipetes ganeesa | K |
| Sand Martin | Riparia riparia | B |
| Barn Swallow | Hirundo rustica | Common |
| Hill Swallow | Hirundo domicola | KY |
| Sri Lanka Swallow | Cecropis hyperythra | K S U |
| Green Warbler | Phylloscopus nitidus | Common |
| Large-billed Leaf Warbler | Phylloscopus magnirostris | K [S] L NE [P] [SIG] |
| Clamorous Reed Warbler | Acrocephalus stentoreus | T B |
| Blyth's Reed Warbler | Acrocephalus dumetorum | UBENE |
| Sykes's Warbler | Iduna rama | NE |
| Sri Lanka Bush Warbler | Elaphrornis palliseri | NE |
| Zitting Cisticola | Cisticola juncidis | T B |
| Grey-breasted Prinia | Prinia hodgsonii | U |
| Jungle Prinia | Prinia sylvatica | U B |
| Ashy Prinia | Prinia socialis | UTNE |
| Plain Prinia | Prinia inornata | UTBSIG |
| Common Tailorbird | Orthotomus sutorius | [K]ULENEM |
| Sri Lanka Scimitar Babbler | Pomatorhinus melanurus | [S] SE NE |
| Tawny-bellied Babbler | Dumetia hyperythra | U |
| Dark-fronted Babbler | Rhopocichla atriceps | KLNESIG |
| Brown-capped Babbler | Pellorneum fuscocapillus | K |
| Orange-billed Babbler | Turdoides rufescens | K S |
| Yellow-billed Babbler | Turdoides affinis | Common |
| Ashy-headed Laughingthrush | Garrulax cinereifrons | S |
| Yellow-eyed Babbler | Chrysomma sinense | U |
| Oriental White-eye | Zosterops palpebrosus | K |
| Sri Lanka White-eye | Zosterops ceylonensis | NE |
| Velvet-fronted Nuthatch | Sitta frontalis | S |
| Sri Lanka Hill Myna | Gracula ptilogenys | S |
| Southern Hill Myna | Gracula indica | K |
| Common Myna | Acridotheres tristis | Common |
| Brahminy Starling | Sturnia pagodarum | Y |
| White-faced Starling | Sturnornis albofrontatus | S |
| Rosy Starling | Pastor roseus | U B Y |
| Pied Thrush | Geokichla wardii | NE |
| Spot-winged Thrush | Geokichla spiloptera | K S [NE] |
| Sri Lanka Thrush | Zoothera imbricate | S NE |
| Indian Blackbird | Turdus simillimus | NE |
| Eyebrowed Thrush | Turdus obscurus | NE |
| Indian Robin | Copsychus fulicatus | UBYL-EAPSIG |
| Oriental Magpie-Robin | Copsychus saularis | Fairly common |
| White-rumped Shama | Copsychus malabaricus | L |
| Asian Brown Flycatcher | Muscicapa dauurica | SKYPSIG |
| Brown-breasted Flycatcher | Muscicapa muttui | K S |
| Tickell's Blue Flycatcher | Cyornis tickelliae | K SE |
| Dull-blue Flycatcher | Eumyias sordidus | SE NE |
| Indian Blue Robin | Larvivora brunnea | SSENE |
| Sri Lanka Whistling Thrush | Myophonus blighi | NE |
| Kashmir Flycatcher | Ficedula subrubra | NE |
| Pied Bush Chat | Saxicola caprata | NE |
| Jerdon's Leafbird | Chloropsis jerdoni | U A |
| Golden-fronted Leafbird | Chloropsis aurifrons | K SIG |
| Common Iora | Aegithina tiphia | K U |
| Marshall's Iora | Aegithina nigrolutea | U |
| Agile Flowerpecker | Dicaeum agile | T |
| Legge's Flowerpecker | Dicaeum vincens | S |
| Pale-billed Flowerpecker | Dicaeum erythrorhynchos | SUTNEKYSIG |
| Purple-rumped Sunbird | Leptocoma zeylonica | Common |
| Purple Sunbird | Cinnyris asiaticus | B |
| Loten's Sunbird | Cinnyris lotenius | U NE |
| House Sparrow | Passer domesticus | SBNEG |
| Streaked Weaver | Ploceus manyar | T |
| Baya Weaver | Ploceus philippinus | U T |
| Indian Silverbill | Euodice malabarica | Y |
| White-rumped Munia | Lonchura striata | K U T |
| Scaly-breasted Munia | Lonchura punctulata | U T Y |
| Black-throated Munia | Lonchura kelaarti | NE |
| Tricolored Munia | Lonchura Malacca | U T B |
| Forest Wagtail | Dendronanthus indicus | LBNE |
| Western Yellow Wagtail | Motacilla flava thunbergi | U |
| Grey Wagtail | Motacilla cinerea | K NE |
| White Wagtail | Motacilla alba | U |
| Paddyfield Pipit | Anthus rufulus | UBNE |
| Blyth's Pipit | Anthus godlewskii | U |
List of mammals and reptiles seen
| | | |
| --- | --- | --- |
| Indian elephant | Elephas maximus | U B P |
| Toque Macaque | Macaca sinica | S T PAN KY A P SIG |
| Tufted Grey Langue | Presbytes priam | T B Y A |
| Purple-faced Leaf Monkey | Trachypithecus vetulus | [K] [S] [NE] SIG |
| Indian Jungle Cat | Felis chaus | U [Amila – should I add this in?] |
| Indian Palm Squirrel | Funambulus palmarum | Common |
| Sri Lanka Giant Squirrel | Ratufa macroura | K NE |
| Black-naped Hare | Lepus nigricollis | B |
| Indian Flying Fox | Pteropus giganteus | Common |
| Ruddy Mongoose | Herpestes smithii | U Y |
| Indian Grey Mongoose | Herpestes edwardsii | U |
| Wild Boar | Sus scrofa | Y |
| Water Buffalo | Bubalus bubalis | Y |
| Spotted Deer | Axis axis | U Y |
| Common Green Forest Lizard | Calotes calotes | K |
| Sri Lanka Kangaroo Lizard | Otocryptis wiegmanni | K |
| Mugger Crocodile | Crocodylus palustris | U T B SIG |
| Bengal Monitor | Varanus bengalensis | |
| Water Monitor | Varanus salvator | |
| Barnes' Cat Snake | Boiga barnesii | S |
| Sri Lanka Blossom Krait | Balanophis ceylonensis | S |
| Flapshell Turtle | Lissemys punctata | U |
| Bryde's Whale | Balaenoptera edeni | M |
| Fin Whale | Balaenoptera physalus | M |
| *Bottlenose Dolphin (sp) | Tursiops sp | M |